The streets are paved with diamonds
We got back from NY late last night. It was a wonderful trip in many ways that I can't explain here, but I treasured the time I got to spend with my brother and sister.
I can now officially recommend the so-called
Chinatown Express
busses that run between DC and NYC. On the day of departure we found the tiny office in DC's Chinatown with only one small error. The error was that instead of going
down
the stairs to the basement-level bus office, I went
up
the stairs and walked into a Chinese woman's apartment.
Me:
(opens door, lugging suitcase and dripping with rain) Hello!
Woman:
(flies at me, furious)
NO! YOU DOWNSTAIRS!

Me:
(tries to shield body with wet umbrella) I'm sorry? What?
Woman:
NO!
(shoves me out and slams door in my face)
Once again standing in the rain, I turn and give M a stunned look. Then we burst out laughing.
Me:
Well, now I can check off "get a door slammed in my face" on my list of life experiences.
M:
You've never had a door slammed in your face?
Me:
No.
M:
Oh yeah... you didn't work in social work long enough.
So yes, if you want a cheap ride between DC and New York City, take the Chinatown Express. But don't use the bathroom if you can help it (the one on my bus was disgusting) and don't piss off the woman who lives upstairs.
Pictures from the trip...
On the bus. I read Anna Maxted while M tries to show off.
My sister and brother, terrorizing Brooklyn since 2000.
At
Pukk
in Manhattan
Many drinks later at Belly...
Whee! Being hungover in the blinding sunlight on
the Brooklyn Bridge is fun! (that's me in pink)
K needs my professional librarian support as she returns
overdue books to the Brooklyn Public Library. Naughty.
C and his dog at Sunset Park.
Match the caption with the pictures:
1. Spoke too soon
2. Crepe expectations
3. Bubble Tea- the strangest invention ever
4. Camera shy
5. Vogue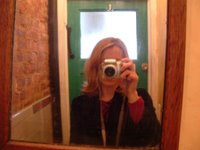 Labels: Family