You'll never guess. Okay, maybe you will.
After tonight's dinner I took some pictures for a post I wrote earlier today. Unfortunately, none of them came out very well. Then I had the revelation that it might be fun to invite you to guess what this is (a la
Vernicious
) since I wasn't sure I would've ever figured it out if I didn't own one.
Featured:
random rooms in my house, since I stupidly thought that changing rooms would make the picture come out better.
p.s.
This is somewhat embarrassing, but I'm willing to suffer for your entertainment.
p.p.s. Please try to ignore the phallic nature of this object.
p.p.p.s. Or don't ignore it.
p.p.p.p.s. It is not a light saber.
p.p.p.p.p.s. However, it is kind of phallic.
p.p.p.p.p.p.s. The phallic nature cannot be denied.
p.p.p.p.p.p.p.s. You can go ahead and notice the phallic nature if you want to.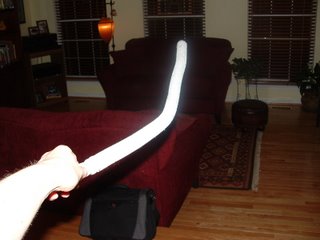 Labels: Phallic Objects